One of the main reasons for a woman to apply makeup on her face is to cover the signs of her real age. Even though beauty is the most desired final effect, never underestimate the factor of youth as your general priority in your appearance, as well. There are many ways professional makeup artists as well as the most famous bloggers have written about. We have, though, decided to gather only those tricks that really work and that would be helpful for each of you. So, do not waste any time – because time is beauty and youth – and check out the top makeup tricks to look younger than you actually are right away.
1. Situate the eyebrows higher
The illusion of the lifted brows can be easily done with a set of makeup tools and products for eyebrows. When you curve your brows and create the best shape for your face, measure twice and cut once. Then, apply the best eye brow pencil you've got and highlight the edges with somewhat darker shade for a better accent.
2. Let your lips shine
The gloss is supposed to be quite light, because otherwise you'll look older than you actually are. Also, put the gloss only in the centre of your lips – to get a slight sexy effect with no obtrusive essence.
3. Mascara or fake eye lashes?
In both cases, your aim is to look younger. So, if you don't have enough time to apply good and decent mascara every day, consider fake eyelashes.
4. You are not old and colors are allowed!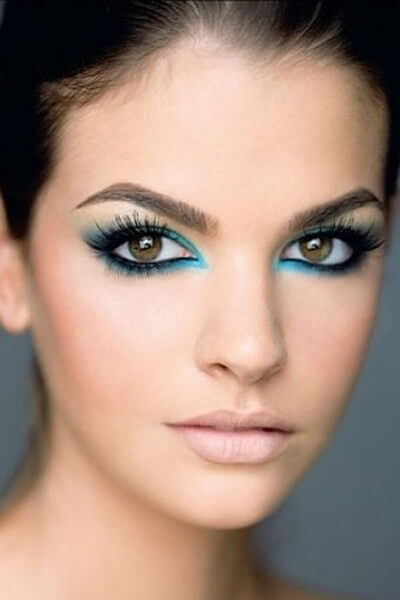 OK, natural makeup is really a standard in beauty, but just because you've already passed your 30s, it doesn't mean bright shades are forbidden for you. On the contrary, there are awesome nuances that can, as a matter of fact, reduce at least 10 years away from your look – green, peach, light purple, deep chocolate, etc.
5. Darker lips
Speaking of shades, when you pick up a lipstick shade, rely on darker nuances. Red is not the only choice. You can actually go for an awesome brown, sparkling pink with beige reflection and even a more natural plum shade.
6. Purchase a foundation with gold nuance
The ideal foundation shade for you is the one with gold nuance. This is the best color for both women above their 50s and those in their late 40s. To tell you the truth, though, as this shade is very popular and modern these days, girls under 30 also prefer the gold-styled foundation, so you won't have any difficulties purchasing one.