Spring and summer aren't so close, but you must be entirely aware that designers and fashion experts always release their new conceptions and trends in advance. And since we're here to inform you about all the latest and hottest fashion news, it is our duty (and pleasure, of course) to immerse you into the newest techniques and tendencies in the makeup sphere! So, thumbs up for this short, but quite helpful review of the latest and hottest 2018 makeup trends!
1. Perfection in fine lines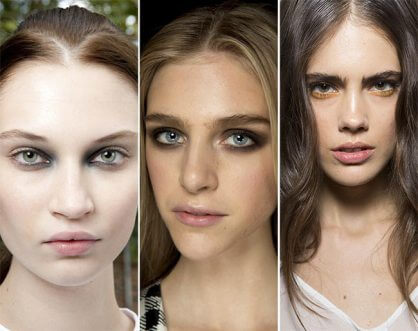 There's nothing difficult or tough in this makeup conception at all. You do know how to achieve that amazing natural look of your face with some light foundation, soft powder and good blush at hand. The only new thing in this makeup idea are the fine lines; to bring them into your own makeup, use eye liner to focus the attention on the expressive look, as well as pencil in a little bit darker nuance than your lipstick color.
2. Blazing seductive lips
Lips are going to be the top accent in this year's makeup conception. To achieve those gorgeous and seductive blazing lips, rely on dark nuances, as well as softer lipsticks with plumping effect. As to the shades, you can improvise, but avoid ordinary peach and pink nuances. Replace them with cool red, amazing purple and brilliant plum-shaded products.
3. Brownie girls on the move
Chocolate-like shades all over your face are the top trend in 2018 makeup conceptions. Speaking of brown and beige, we mean all of the nuances you can think about. So, whatever your favorite idea of brownie girl is, simply immerse it into your both casual and evening makeup. By the way, such natural look will go amazingly with curls or straight hair with no accessories. Ideal makeup idea for work, isn't it?
4. The Surge of Brightness
The flash of unordinary and extra bright colors in 2018 makeup conceptions is obvious. You can go for some turquoise, bright orange or yellow, impressive green or pink with a single touch on your eyelids. To avoid the sneaky effect and not to look like a clown, leave the rest of your face in a porcelain-like shade with light foundation and pure lips in peach or beige.
5. Vanguard angles
Looking at the models that represent the 2018 makeup trends for spring and summer it appears that rounded shapes are out. Instead, vanguard colors all around your face will make you look more eccentric, but confident and stylish as always. Try them, too – whether on your cheeks or directly with your favorite eye shadows.
OK, girls, take a look at all these makeup trends and start practicing them right away!