Every girl knows that winter is the most hostile season for her face. Because of the cold weather skin starts to peel and fingers become rought. So, ladies, you must include some products on your cosmetic list – a hand cream and a lotion which will prevent dryness in the skin. When you have these necessary products, you are ready to see the best makeup tips for winter 2016 and try some of them. We will use the popular phrase from our favorite TV serial – 'Winter is coming!' – prepare to be glamorous!
Best makeup tips for winter 2016:
Smoky eyes
If you want everybody to notice your perfect eye look, try to create the best smoky eyes. If you follow these 3 easy steps, the result will be stunning: start with applying a small amount of powder above the cease of your eyelind; continue with eye pencil and black eyeliner and finish with mascara application.
In our website you can learn more about the perfect smoky eyes and how to achive these amazing eye look!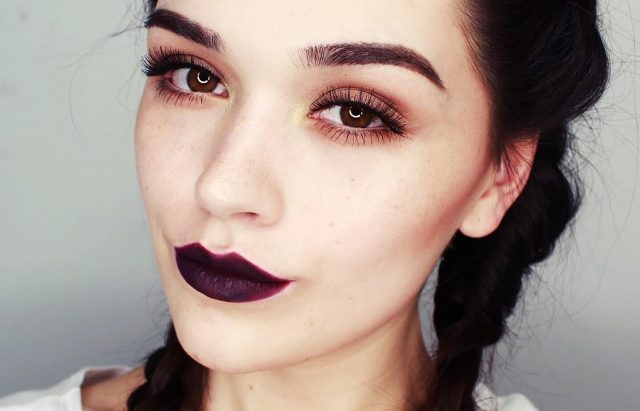 Dark lipstick
Dark lipsticks are really famouse these season. They will finish your makeup look and underline your beauty appearance. If you don`t like to put mascara or eyeliner on your eyes, put only dark lipstick – the effect will be brilliant. The best dark colors are: red, purple, brown and their shades.
        Blue or Brown Eye Shadows
Well, the winter is cold season, so it is obvious that the color of eye shadows will be blue or brown. If you wonder who can wear blue or brown eye shadows, we will tell you – everyone who has the courage. It doesn`t matter your eye color (blue, green, brown), it is only important how you will put your eye makeup. Try not to cover your all eye and put eyeliner and mascara to fix the "eye look".
If you feel embarrassed to wear both makeup on eyes and lips, put accent only on one of them. You can combine brown eye shadow with rosy-beige lipstick that is not toо observable or put some mascara on your eyes and dark lipstick, for example red, on you lips. We are sure that your appearance will rock everyone!
Makeup is not a mask, makeup is expression and it has the power to make you feel better. Bobbi Brown says: 'Makeup is a way for a woman to look and feel like herself, only prettier and more confident'. So, dear ladies, don`t feel shy and show your beautiful face to the world, you and only you, deserve it!