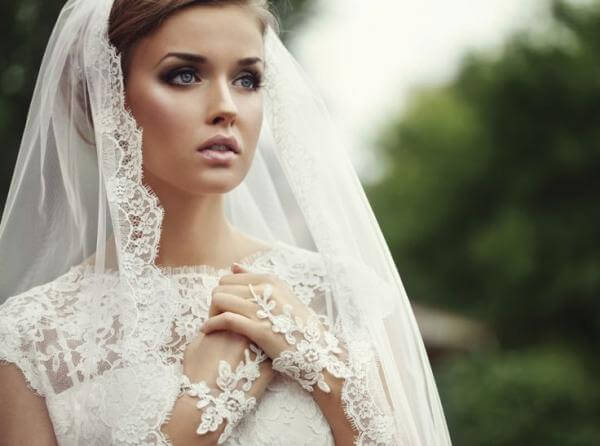 Your wedding day is right around the corner and you are ready! You have the dress, the bridesmaids, the veil, the cake and food, and of course the groom. But do you know what bridal makeup you want to wear for your big day? Natural wedding makeup is not only classy and beautiful, but also becoming increasingly popular with brides. Keeping a natural look to your face when walking down the aisle is beautiful and will likely make your groom look twice as it may not be your everyday look.
Beautiful Berry
To achieve a natural bridal makeup that will go with everything, subtly line your lids, apply a soft blush, and use a berry colored lipstick for a flashy pop. This look never goes out of style and is easy to apply without feeling as though you need to rush. Plus it is easy to touch up during the wedding to keep your makeup looking camera ready for all the amazing photos you will have taken.
Ethereal Pinks
For a more ethereal look that will certainly catch your groom's eye while still using natural bridal makeup, use a pale pink on your lips and lids then top your lids with a brown shadow. Then simply use a champagne color on the inner corner of your eyes to really make them look surreal. This is a beautiful look and will ensure that your eyes pop in your photos as well.
Dramatic
If you want a more dramatic look, line your eyes on the top and bottom, then apply a black shadow to the lid for a smoky look. Then add a nude gloss rather than a lipstick as well as contour and highlight your face and you are ready to walk down the aisle. Not only is this more dramatic in appearance, but is a classic natural bridal makeup.
Light Pinks
Pink provides a natural bridal makeup that is not only youthful but gorgeous. Line your eyes on the top and bottom as well as through your lash line. Then use a light pink shadow for your eyes, peach blush on the apples of your cheeks, and a dusty rose lipstick on your lips. This look is incredibly natural and will make you look slightly younger.
Earth Tones
Earth tones are also a wonderful choice for natural bridal makeup as they look natural on just about everyone. Choose your best earth tones for your eyes, cheeks, and lash line, then top the look off with a rosy red lipstick for a classic look. Not only is this a beautifully classic choice but easy to fix throughout your wedding day.
"Marriage is a mosaic you build with your spouse. Millions of tiny moments that create your love story." Jennifer Smith