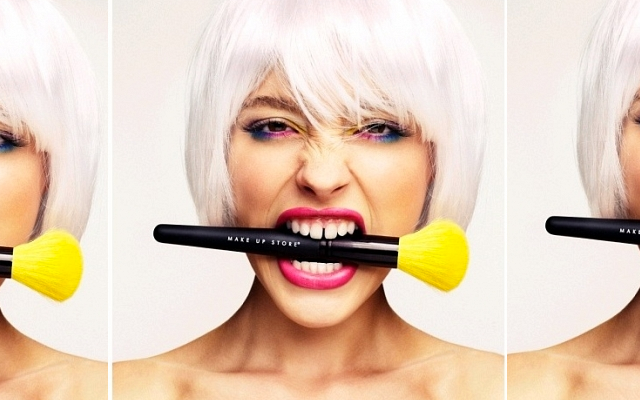 There are two things you need to take into consideration when it comes to the perfect makeup. First of all, your own facial skin complexion and features – such as your nose shape or your eye color – become the bases for your ideas and conceptions. The next thing you need to bear in mind is the occasion. As you know, even the best makeup idea is never fine and beautiful enough if you apply it in an inappropriate place or time. Vanguard and colorful makeup ideas, for instance, are not very suitable for the office or for a walk in the park. However, they could be amazing for a formal cocktail. Such an occasion requires smart, simple, original but not too eccentric clothing. Thus, the accent must be your cool makeup. Speaking of all of these, check out our fantastic makeup tips for formal cocktails!
1.Outstanding ombre-style makeup
At a formal cocktail, you will probably prefer to wear either a little black dress, or even a set of shiny pants with sateen shirt. Depriving your clothing outfit from many colors and bright accents means you need to balance with the makeup. And the ombre idea is just superb for such a case!
2.Gorgeous sleekness
Soft materials and feminine cuts of the formal cocktail dresses or other clothing items create a wonderful silhouette. The makeup that will suit it could be both – gorgeous and sleek. This means you need to put an accent on the perfectly created porcelain-like fair complexion with some slight blush. As to the eyes, eyeliner combined with fake eyelashes is superb. In this case, the lipstick must be either classical red or sexy nude.
3.Girly shininess
There is nothing bad to bring in some gloss or shininess in your fantastic formal cocktail makeup. Do not overdo it with the brilliance, though, because on this occasion you need to look serious, but cute, feminine, but independent. Balance the makeup by choosing where to bring in the luster. Choose either the lips, or the eyes.
4.Classy and fancy formal cocktail makeup tips
If you still prefer the classy makeup and want to show the best of your look at the cocktail, then go for an amazing red lipstick with smokey eye shadows. Another idea is to lean on the beige theme and have some soft complexion with smooth blush, brown eye shadows and nude lipstick. Last but not least, consider the idea to be more girlish with pinky look, where the eyes must be colored in darker nuances than the lips.
Last but not least, we need to warn you that every little detail from your formal cocktail appearance is very important. And the makeup must be the last thing you need to consider and create, so it shouldn't be either too drastic, or too light!